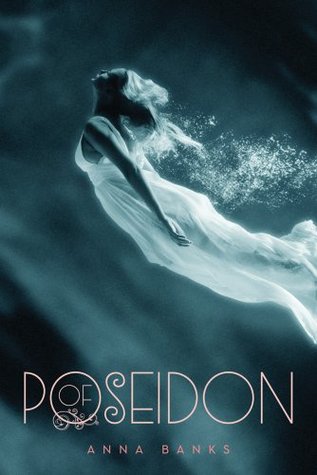 Description Provided by Goodreads:
Galen is the prince of the Syrena, sent to land to find a girl he's heard can communicate with fish. Emma is on vacation at the beach. When she runs into Galen—literally,
ouch!
—both teens sense a connection. But it will take several encounters, including a deadly one with a shark, for Galen to be convinced of Emma's gifts. Now, if he can only convince Emma that she holds the key to his kingdom...
Told from both Emma and Galen's points of view, here is a fish-out-of-water story that sparkles with intrigue, humor, and waves of romance.

My Thoughts: The first book in the series captured my attention from the beginning and as I started reading the book I just fell even more in love with the characters, especially Galen!!! He's really sweet and innocent to the human ways of life, that he would be adorable if he wasn't so sexy lol!! I also loved Emma's character and found her to be my literary twin! Plus the ending completely threw me for a curve that I just couldn't wait for the second book!
Book Description Provided by Goodreads:
Emma has just learned that her mother is a long-lost Poseidon princess, and now struggles with an identity crisis: As a Half-Breed, she's a freak in the human world and an abomination in the Syrena realm below. Syrena law states that all Half-Breeds should be put to death.
As if that's not bad enough, her mother's reappearance among the Syrena turns the two kingdoms—Poseidon and Triton—against one another. Which leaves Emma with a decision to make: Should she comply with Galen's request to keep herself safe and just hope for the best? Or should she risk it all and reveal herself—and her Gift—to save a people she's never known?
Once again, Anna Banks infuses Emma and Galen's points of view with humor, intrigue, and waves of romance.
My Thoughts: I was so excited when the second book came out because it meant that I got to read about and be entertained by Emma and Galen all over again!
As I got back into their story line, I fell in love with them all over again.
Galen is still his charming and lovable self and Emma is still her assertive and awesome self too! AND there's more Rayna and Toraf scenes!!!!
This book definitely lives us to my expectations after the first book! Plus this book ended so nicely that it really made me want to read the third book to see what will happen!!
Book Description Provided by Goodreads:
Emma and Galen's kingdom and their love is threatened by long-lost Syrena in the brilliant conclusion to Anna Banks bestselling trilogy.
Emma, half human and half Syrena, and her Syrena love, Galen, need time together alone. Away from the kingdoms of Poseidon and Triton. Emma's grandfather, the Poseidon king, suggests the two visit a small town called Neptune.
Neptune is home to both Syrena and Half-Breeds alike. But Emma and Galen didn't sign up to be peacemakers between the ocean and the land-dwelling, freshwater Syrena. They didn't bargain for meeting a charming Half-Breed named Reed, who can barely disguise his feelings for Emma. And they especially didn't expect to find themselves in the middle of a power struggle that threatens not only their love but their ocean kingdoms.
In this stunning conclusion to her bestselling Syrena Legacy, Anna Banks thrills fans with more action and romance than ever.
My Thoughts: I'm SUPER excited to read the last book in the series; however, after reading the books and growing attached to the characters I'll definitely miss them! My prediction for this book is that Galen is going to have a show down with Reed and go all macho and protective over Emma!! I also predict that there will be some (lots lol!) of fangirling by me while I read this book and maybe a couple of tears when it come to an end!
P.S.- You still have time to pre-order the book as it come out tomorrow, giving you the chance to get an exclusive chapter from the book AND an exclusive bonus short story from Rayna's POV (which will go away forever TOMORROW!!!)
About the Awesome Author:
New York Times Bestselling author of The Syrena Legacy series.
Grew up in a town called Niceville. No, seriously. I graduated from Niceville High School. So did J Lo's second husband. And the guy that plays Aqua Man on Smallville dated my best friend.
Now I indulge my tendency to lie by writing the lies down and selling them to publishers. Well actually my agent sells it, so she's an accomplice to lies. One of my lies is called OF POSEIDON. The sequel is called OF TRITON. I'm still making up the third lie, OF NEPTUNE.
And um. I also write adult fiction under pen name Anna Scarlett. One of the adult lies is DEGREES OF WRONG.
That is all.