Description Provided by Goodreads:
California teen Sadie James thinks her life couldn't get any better. She has great friends, an energetic mother she adores, and the beach practically in her own backyard. But her carefree life is turned upside down when she's rescued by a mysterious and strangely familiar boy who won't even tell her his name. Each time the boy appears, Sadie's unexplainable attraction to him deepens along with her need to unravel his secrets. The boy is there to protect her, but as wonderful and exciting as it might be to have an irresistible boy with crystal green eyes protecting her every move, every minute of the day...why does Sadie need one? As Sadie finds answers, she realizes her life isn't as perfect as she thought. Not only is she caught in a world of dangerous secret agents she never knew existed, but it turns out her true identity may be the greatest secret of all.
To buy this book or learn more about it click any of the following links: Goodreads, Kobo, Barnes&Noble.
It is currently free on Amazon so get it before it's gone!!!
This had been one of "my want to read" books on Goodreads for a long time, so when I got the opportunity to read and review it I automatically jumped on it. So without further a do here's the review:
Story Line:
This story line centers on a society with Water Keepers, Brokers, and Scouts, which is something that I had never read about before. I adored the new concept to the book because it was a refreshing read to other books. The progression of this book and the story line were unexpected and constantly kept me on my toes. loved that the story constantly had me thinking about it and thinking up new possibilities to the story and to the characters.
I loved it all from the revelation of secrets, to Rayne and Sadie, and to the very end.
Writing:
Something that I really enjoyed in this book was that it was written in multiple perspectives. We get the perspective of all the below mentioned characters and also another character that I think should remain a secret. (Just a little incentive to read the book hahaha!) I loved reading certain scenes in Rayne's perspective the most, since most books I read are just told from the heroine's point of view.
(New Tab!!!) Relationship:
This new tab has been on my mind for a while and since Rayne and Sadie's relationship is different from other character relationships I've read I decided that it was the perfect time to unveil it. Both Rayne and Sadie have conflicting feelings toward each other that as the book comes to a close they understand better but don't seem to want to admit. What particularly fascinated me about their relationship and the book in general was that it was the first book I ever read in which the main couple did not end up together at the end of the first book. I love the suspense and mystery, involving feelings, that Ms. Anderson has put on their relationship, which makes you want to read the second book just to find out if they get together and how.
Characters:
Sadie: I found Sadie's character to be very admirable. Sadie is very much a person who will try and take her life into her own hands and not rely much on others for help. This is just one of the qualities that I admired in her because she takes control of her life, even though it comes at a risk to her. Another thing that I enjoyed reading about in Sadie is her selflessness. She's constantly worrying about other people such as her mom, her friends, Rayne, or even a random stranger on the side of the road. Lastly I admired her non-whinnyness. Multiple characters that I have read about constantly whine and complain about the complication and struggles in their lives; however, Sadie doesn't do that. Rather than complaining about the issues in her life Sadie decides to take action and confront them as best as she can, which is one of the major part of her personality that I admired and enjoyed reading about.
Rayne: From the very beginning I found myself falling for Rayne's character. His compassion for others, like Sadie's, is something that I found inspiring. I loved that he wasn't the typical guy I read about. He wasn't born rich, a prince, or powerful; his humble beginning is something that struck a cord in my heart and shaped Rayne to be the amazing character he is. I loved his tenderness toward Sadie and while he may seem perfect he does have one or two flaws that just make his character better because they show a more human side to him. Instead of seeing Rayne as a perfect fairy tale character his flaws make him seem more humane and relatable.
Rayne's loyalty, charm, dreamyness, humor, chivalry, smile, honesty, humility, tenderness all work harmoniously to make him the (almost) perfect character (lol).
Ash/Voss: Ash in this book is a minor character and his character, while at first may seem one dimensional turns out to be very complex. Ash is stuck in a battle with two sides of his character, which is delved into more in the second book.
Voss is intelligent, cunning, and a trained assassin and t
he only way I could describe Voss is as being the perfect villain.
Overall:
I absolutely loved this book!! This book flew by so fast that before I knew it I was done with it and then done with the second book as well. I'm already on the third book in the series, Ambrosia Shore, and I can honestly say that the books just keep getting better!! (So look forward to those reviews soon).
Rating:
I would give this book a 10!!!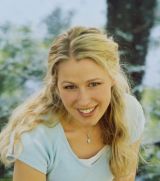 About the Author:
Christie Anderson is the Author of the young adult book series THE WATER KEEPERS.
Christie has gone from a BA degree in Latin American studies at Brigham Young University to pizza delivery, flight attendant, and office manager, to finally finding her true passion in writing.
She loves lounging on the couch knowing her wonderful husband is by her side. She enjoys music, movies, books, and being outside in the sunshine whenever possible. She misses the ocean like crazy, but is terrified of waves. She's dabbled in photography, drawing, and golf, and she loves animals. She's still trying to convince herself she likes to cook.
Christie grew up in Southern California and recently moved to Colorado with her husband.