Welcome to the second Classical Tuesday!! With you today is my sister Maria, so here's what she had to say for today's post: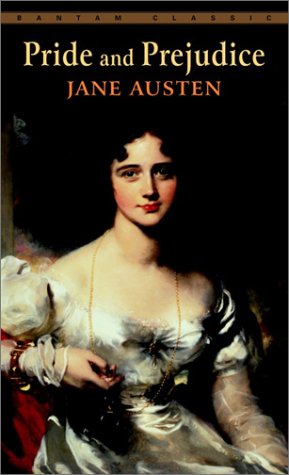 So, today we will be talking about my favorite book: Pride and Prejudice. The book is about Elizabeth Bennet, one of the 5 daughters of the Bennets, (you have a bunch of crazy characters in their family) and her love/hate relationship with Mr. Darcy, a rich, handsome, but proud gentleman. The book, I believe, was first called First Impressions, which is one of the main themes. They both meet at a town dance, when his friend, Mr. Bingley, decides to buy a house. When they first meet, they don't like each other. Mr. Darcy insults Lizzy and she takes personal offense to his every behavior after that. As time passes and their families become closer, their relationship grows and they find that first impressions might not always be right. With a cast of amazing characters, Pride and Prejudice is one of the best (in my opinion) books ever written. My favorite character is Elizabeth. She is witty, child-like, but mature and sensible. But she also reminds me of myself. Another one of my favorite characters is Mr. Collins, the silly and ridiculous cousin. He is the epitome of social awkwardness. 

As I said in the past post, this is my favorite book and I read it every summer. I always find something new each time I read it so I never get tired of it, especially if I read it with a British accent. 


Now for the fun stuff, the random questions section (lol!) The blue is me and the purple is my sister, Maria.
Q: Twizzlers or Red Vines?
Q: Dark, milk, or white chocolate?
A: All of them… Especially in a tart.
A: Tom Hanks. Hands down.
Q: Current celebrity crush?
A: Matt Smith from Doctor Who. Yay 11th Doctor!
A: This is a hard one. It's a 3-way tie between Suits, Sherlock (BBC version), and Doctor Who.
Thank you Maria for today's Classical Tuesday. I hope you all enjoyed it and come back next Tuesday for another Classical Tuesday!